149 Credit Hours
9 Credit Hours of Practicum
12 Semesters Over 4 Years
Student advising and counselling
Course wise consultation hours
TA support
Hands on practice in labs and fields
Career development training
Workshops and seminars
Grooming
Extra Curricular Activities
Physical and recreational facilities
Indoor and outdoor sports.
Students Society .
Students engagement in various festivals and competitions.
The facilities of counseling and guidance are available to students under the leadership of qualified Clinical psychologist.
This service is provided under the Counselling and Guidance Center of IUBAT.
Alumni and Placement Services
Alumni and graduates assistance regarding career planning and employment.
Assistance in placement to students in their final semester for practicum work in real life organizations
Assistance in placement to graduate students in securing career employment.
English debates on contemporary issues.
The IUBAT College of Nursing (CON) is recognized by the Government of Bangladesh and the Bangladesh Nursing and Midwifery Council (BNMC). The CON offers women and men a program leading to the degree of Bachelor of Science in Nursing (BSN). The overall structure, based on international models, provides a four-year program with three semesters in each year (starting January, May, September) plus 6 months internship, as required by the Bangladesh Nursing and Midwifery Council (BNMC). The program is approved for 125 seats annually and is open to national and international candidates.
Upon completion of the BSc in Nursing program, the graduate will be able to:
Demonstrate use the nursing process in theoretical (written) and practical organization / delivery of nursing care within a variety of situations.
Provide the rationales for basic nursing interventions.
Master nursing skills with a level of competence that ensures safety, promotes comfort and respect for the patient and other members of the health team.
Demonstrate critical thinking by providing solutions to theoretical and practical health care problems.
Assess community health and organize planned community health promotion activities.
Plan, implement and evaluate client education modules in theoretical and practical situations.
Access and use digital information to prepare assignments and research reports.
Demonstrate leadership and management capabilities in structured scenarios and organization of CON events (both recreational and health-related).
Demonstrate responsibility and accountability in nursing practice and leadership.
Describe and demonstrate the principles of ethical research involving human populations by designing, implementing and documenting an individual research project.
Strong curriculum and teaching materials adapted from North American standard.
Collaboration with international mentor network provides continuous monitoring and development of course content, student evaluation and faculty expertise
English-medium of instruction
100% employment after graduation.
Successful competition for scholarships abroad.
Graduates are successfully working abroad.
Strong relationship and reputation with the government and non government hospitals and other organizations
Proven commitment to transparency and quality assurance
The IUBAT BSN incorporates 112 hours of laboratory practical work as well as approximately 3,000 hours of hospital / field-based practical work. This includes hospital rotations connected to coursework in addition to the 6 months internship mandated by the BNMC.
The CON has a laboratory which is equipped with essential materials to perform basic nursing skills, midwifery skills, biology-microbiology experiments and to support anatomy and physiology learning. The university is committed to improving and modernizing our resources and expansion of the existing facilities is expected to be complete by 2021.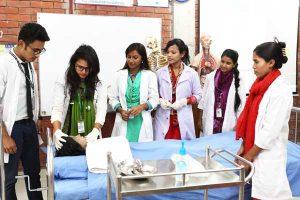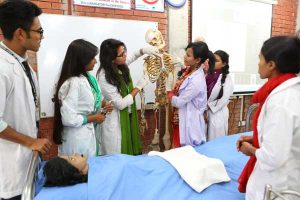 The IUBAT BSN degree allows graduates flexibility to work in a variety of desirable positions.  CON graduates:
have qualified as Registered Nurses in North America and the EU
have qualified for (and completed) higher study abroad
have qualified for scholarships for higher study abroad
are 100% successful in passing the Public Service Commission (PSC) recruitment examinations for government employment
are employed by international organisations in Bangladesh as well as government hospitals
Local employment opportunities directly related to the BSN include:
Senior Staff Nurse – public / private sector
Nursing Supervisor – public / private sector
Community Health Nurse – public / private sector
Nursing / Health Educator – public / private sector
Public Health Researcher / Professor – public / private sector
Health Project Assistant / Specialist / Manager