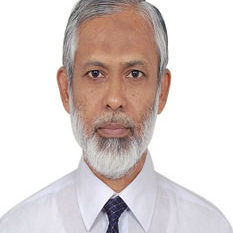 Prof Mohammad Ullah
Professor & Chair
M Ed(UK),Diploma in PHC (UK),
MPH-HE (DU), BSc in Nursing (DU)
Room # 806   Ext # 317
E-mail: chair_cn@iubat.edu
Prof. Mohammad Ullah has been working as Professor and Chair in College of Nursing at International University of Business Agriculture and Technology (IUBAT) since January, 2019.
He was awarded an M Ed from the University of Manchester in 1994, Diploma in Primary Health Care from Queen Margaret College, Edinburgh in 1993. Also obtained MPH in Health Education and Bachelor of Nursing Science degree from the University of Dhaka, Bangladesh in 1989 and 1983 respectively.
He has more than 34 year's progressive experience in the field of clinical nursing, nursing management and administration, education and research, institutional collaboration, and health care development with different government and non-government organizations, including National Institute of Ophthalmology, College of Nursing, and Directorate of Nursing Services and  Ibn Sina Hospital, CARE International-Bangladesh and icddr,b respectively.